The

Cook

Family

Our Family History Page

created and maintained by

Thomas Stillman Cook

The

Allen

Family
The purpose of this page is to share information and photographs with relatives and descendants of Stillman and Margaret Cook. You are welcome to copy and keep any of the photographs we post! If you have any information or photographs to share, please send it along!
Family of Hannah B Hunt Mears and John Mears
The wonderful group photograph found below was probably taken in the 1880's. Near the center are John and Hannah Hunt Mears and their large families which includes their sons and daughters in laws and grandchildren. These include some Dutcher and Eckert family members.
The labeling was done by John Leslie Spanton, son of Mira Mears Spanton and father of Don Spanton who shared this image with us. Don's grandmother Mira was born on 30 Oct 1869, married Wm Spanton on 16 Dec 1896 and died 20 Jul 1957.
Don acquired the original from the estate of his Aunt, Laura Spanton Lyman. He informs us that many of these individuals are buried in Orleans County either in Bates Road Cemetery, Town of Ridgeway or Lynhaven Cemetery, Village of Lyndonville.
We have included the image, a copy of John Spanton's original labels, and another image with the names placed on the photograph.
Thanks, Don, for sending us this great photograph!
Please Note: In November of 2005 Mr. Paul S Martineau contacted us regarding the photographs. He offered some possible corrections which were agreed to by Don. We have included the corrections below the labeled photograph. The labels found above the photo and on the photograph have not been changed, but visitors are reminded to see Paul's corrections.
Top Row L to R: Hannah Mears(wife of Wm), William Mears, Henry Mears(son of Charles), Hannah Mears, (wife of Chauncy), Chauncy Mears, Florence Mears Eckert (daughter of Charles) Charles Mears (oldest son), George Eckert, Sylvia Mears, (wife of Charles), Fay L Mears, ___ Mears (wife of Fay);
Seated L to R: John Henry Mears Jr, Mira Mears (Mother Spanton), John Henry Mears Sr., Elmer Mears (son of Chauncey), Hannah B Mears, John Dutcher (son of Clara), Clara Mears Dutcher, Dan MEars, (son of Charles).
First Row, 3 children, L to R: Aaron Mears (Son of Charles Mears), Rena Dutcher Beehe (daughter of Clara Mears) Wm Dutcher (son of Clara).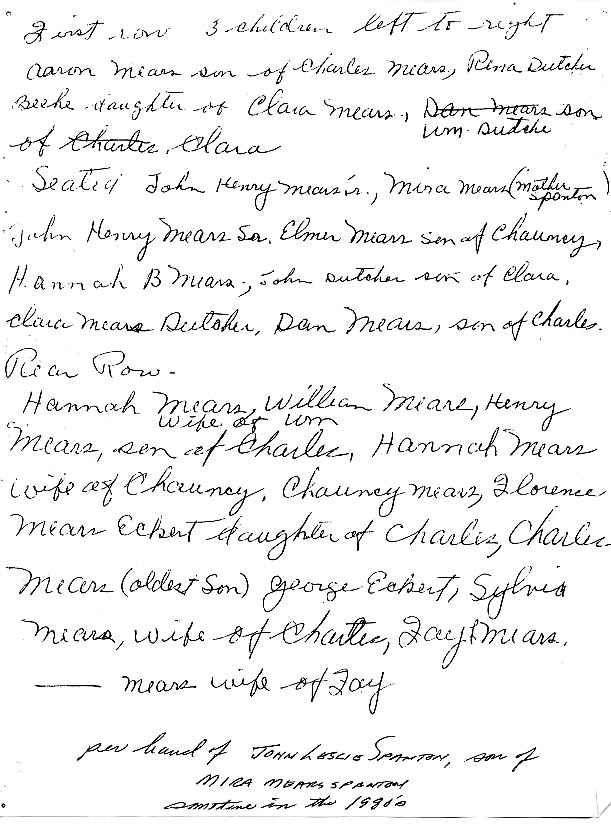 Here are the corrections and comments offered by Mr. Paul S Martineau
"I think that John Spanton listed the names some time after the photo was taken. If Elmer Mears is named correctly the photo was taken about 1892 or 1893. The wife of Fay L Mears is Fannie White, who lived with her father in later years, according to census records. The wife of William Allen Mears is Emma F Wallace, not Hannah. They had no issue....The young man seated on the left, center is not John Henry Mears, Jr., as he died in 1890. I haven't figured out yet who it is. Perhaps it is Frank Mears as he is the only one of Charles and Sylvia Mears children not in the picture, except John Henry who was not yet born."
Thank you Paul for the information!
Return to the Hunt Genealogy Page
Return to Main Page